EnWoBio - Engineered Wood and Biobased Building Materials Laboratory
Main financed by the the Swedish Research Council Formas (no. 2014-172), co-financed by Träcentrum Norr (TCN), Träskyddsföreningen, Madeab, Ofk Innovation, and SP Technical Research Institute of Sweden; and supported by KTH Royal Institute of Technology.
See EnWoBio Prospect ; and see EnWoBio Publications
The objective is to engineer innovative wood and biobased building materials derived from renewable forest or agricultural biomass. The main driving force for this is to support a sustainable development of the society.
A great challenge, however, lies in ensuring long-term consistent performance of biobased building materials under the influence of e.g. hydrothermal variations, UV light, and microbial agents. In many cases a significantly extended service life should be targeted to be competitive to other mineral based materials. In most building applications a biobased material must resist bio-degradation, mainly determined by their moisture resistance.
The materials in focus are biobased composites (biocomposites), naturally modified wood, biobased insulation and cross-laminated timber (CLT) systems. The main idea is to demonstrate new innovative combinations of the materials in various applications, for example in multi-storey timber buildings. The project is structured in two interacting research areas: I) biobased building material science, revolving around material analyses and modification; and II) engineering and demonstration of the material systems, including life cycle and sustainability assessment as measures of e.g. environmental and socio-economic consequences.
The infrastructure for the project consists of a research joint venture between Royal Institute of Technology (KTH), Luleå Technical University (LTU), SP Technical Research Institute of Sweden and a number of industry parties, hosted by KTH.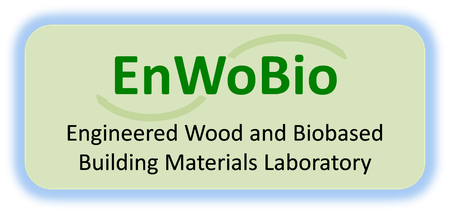 Thermal-hydro-mechanical (THM) modification of wood
Research team: PhD student Susanna Källbom (KTH Building materials), Prof. Magnus Wålinder (KTH Building materials), Dr. Kristoffer Segerholm (SP Sustainable Built Environment and KTH Building materials), Dr. Dennis Jones (SP Sustainable Built Environment) and Kristiina Laine (KTH Building Materials)
The over-all aim is to research and develop new concepts for biocide free modification of wood for exterior building applications. Product categories of special interest are so-called engineered wood products (EWP) and bio- or wood-based composites for the building envelope and various outdoor applications, e.g. sidings or roof systems, windows, doors, and decking and railing. Service life and durability aspects of such biobased building materials are mainly related to properties such as moisture resistance, dimensional stability, resistance to biological deterioration, hardness, abrasion resistance and weathering features.
Durability aspects of building materials
This research area aims at a greater understanding of building materials composition, microstructure and properties, and the link to their function and service life in different applications. An expansive area is so-called "green" materials, such as modified wood and biobased composites, adhesives and coating systems. The main challenges for biobased building materials concern their susceptibility for moisture sorption and biological degradation. More efficient manufacturing processes must also be developed to meet the tough competition in the building materials sector.
Wood or biobased composites as building materials
One focus in this research area includes new efficient tools for studying the micromorphology of new types of modern and eco-efficient wood based materials. So-called micro machining using UV-laser irradiation has been developed as a suitable surface preparation technique for microscopy.
Surface characteristics of wood and wood-polymer compatibility
The scientific focus of this research area includes adhesion science and technology with the main objective to achieve a better understanding of the molecular interaction and adhesion phenomena between wood or biobased materials and other materials. Such information is, in turn, valuable to improve bonding between wood and adhesives or coatings, and also between the constituents in wood-based composites, especially under moist conditions.
EcoBuild Institute Excellence Centre
World-wide environmental concerns urge the need for a development of new biobased material systems and products. The EcoBuild Centre will through the formation of a university-institute-industry cooperation act as an international leading innovation, research and technology development platform within the wood science and technology field. The research program is focused on the development of innovative, eco-efficient and durable wood-based materials and products for building and furniture applications. EcoBuild is organized and hosted by SP Technical Research Institute of Sweden in cooperation with KTH and other institutes and industry.