Fluid and Climate Technology
Scope of activities
Fluid and Climate Technology is adealing with research within human health and well being in the built environment, particularly the indoor environment.
Our research and PhD education include theory, modelling techniques and also technical solutions that can contribute to improve built environments.
Our main task is to evaluate and adequately document environmental conditions. Such conditions have proved to be extremely complex in nature and dependent on a large number of variables, including outdoor climate.
Indoor environment
Influences on health and comfort within the indoor environment are evident through symptoms such as infections, asthma, allergy and inflammatory disorders including eye and skin irritation. Such symptoms can lead to obvious increases in short term sick leave. Further more, a relationship between ventilation rates and productivity is now an established fact.
Low airflow requirements in offices, schools and houses can contribute to health and comfort problems that can decrease productivity. We consider that critical parametrical values for airflow and temperature should be set from the results of good quality computer modelling correlated with laboratory and field measurements, as well as from epidemiological research and feedback from a range of well-functioning buildings.
Variables that characterise indoor climate and airflow include room volume, the ventilation system, pollutants and other substances in the air, as well as the general form of the indoor environment and the objects and processes contained within it. These factors affect occupants in different ways. Ventilation and airflow rates can also affect other variables in the environment such as thermal conditions, air humidity, pressure levels within buildings along with draught-rates and noise levels. Here traditional measurement techniques have run into problems of both technology and cost. Therefore we are developing and applying new methods.
Computer-based flow calculations and new ways of visual presentation form the basis of better understanding of important connections between built environments and with the occupant's health, comfort and productivity.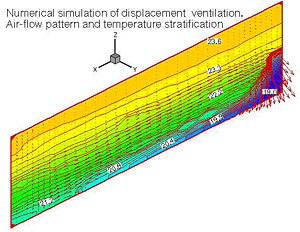 Our research aim is to:
improve indoor environment through long term research with better investigative techniques by direct collaboration with medical research;
collaborate with the building industry in the development of new methods, materials and technical solutions within buildings and the built environment;
bring the fresh research knowledge to the undergraduate education to ensure the continuing development of the education.