Per Bolund (MP) visited KTH to learn about hydrogen storage in rock caverns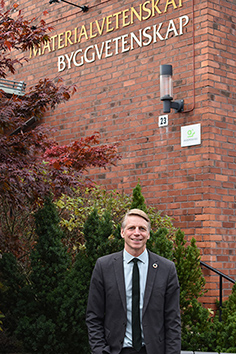 Published Nov 02, 2020
The KTH division of soil and rock mechanics has since 2017 been involved in HYBRIT's research project, which aims to facilitate a fossil-free steel production by using hydrogen gas in the production process instead of coking coal. On October 23, Per Bolund (Minister for Financial Markets and Housing, and Deputy Minister for Finance) visited KTH division of soil and rock mechanics to learn about how to store hydrogen gas in rock caverns. Such storage enables continuous supply of hydrogen gas to the iron production.
There exist several options for large-scale storage of gas. For Swedish geological conditions with hard crystalline rock, large rock caverns lined with steel and concrete are particularly suitable, since the rock can provide ample counterpressure against the pressurised gas in the storage cavern. The carefully welded steel lining ensures that the storage is completely gastight. PhD candidate Davi Damasceno has in the course of this research project investigated different methods to calculate the probability of structural failure in the steel lining for different design options, supervised by Dr. Fredrik Johansson, Dr. Johan Spross, and Prof. Stefan Larsson.

At the meeting, Davi Damasceno presented the technology for storage of gas in lined rock caverns, after which remaining technical challenges were discussed along with future opportunities in the application. The Minister was particularly interested in the technical aspects of the construction of lined rock caverns in Sweden, including required geological conditions, failure mechanisms, and construction methods.
Learn more about the opportunities for storage of hydrogen gas in lined rock caverns in this recent technical prestudy: Investigation of research needs regarding the storage of hydrogen gas in lined rock caverns: Prestudy for Work Package 2.3 in HYBRIT Research Program 1 . Learn about the HYBRIT research project here: www.hybritdevelopment.com/ . HYBRIT is a joint initiative by companies SSAB, LKAB and Vattenfall with partial funding from the Swedish Energy Agency. Research within HYBRIT is carried out in collaboration with KTH and other universities and research institutes in Sweden.