Radial propagation of yield-power-law grouts into water-saturated homogeneous fractures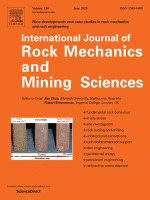 Published Oct 13, 2020
Zou, L., Håkansson, U., Cvetkovic, V. (2020) Radial propagation of yield-power-law grouts into water-saturated homogeneous fractures. International Journal of Rock Mechanics & Mining Sciences 130 (2020): 104308 (external page).
Highlights points
Derivation and verification of analytical solutions for radial flow of yield-power-law fluids (grouts).
Establishment of a two-phase radial flow model for yield-power-law grout propagation in rock fractures.
Investigation on impacts of rheological properties, water flow and hardening on grout propagation.